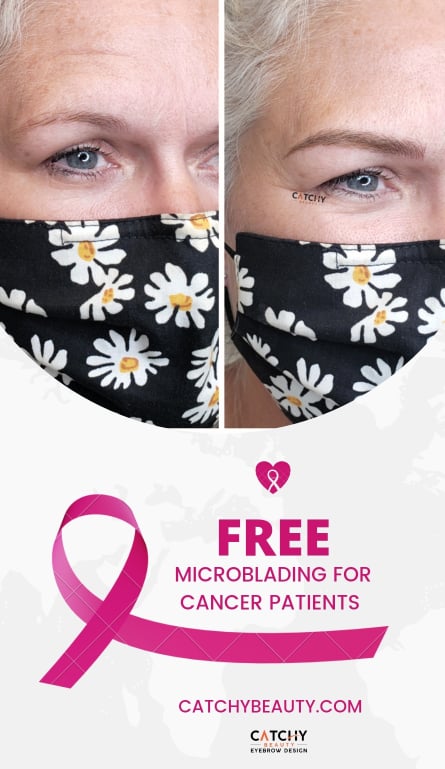 If you have been undergoing or are soon to go through chemotherapy, 
we will offer the microblading treatment for free.
You just need to come in and pay with your smile!
We will also offer $200 for the microblading procedure to just cover the material cost for those who suffer from conditions that may cause major hair loss such as alopecia.
We understand the moment when you get the diagnosis can be disheartening, and the treatments for them will cause some hair loss, that is why we are here to bring you reassurance and confidence with the work of microblading. This procedure itself can give patients a boost of confidence, positivity, and enhance their mood and we would love to uplift your spirits through a tough time.
If you would love to help out, share this post with your friends and family so we can help as many people as we can.
Requirement for Application
Tell us your story
Doctor's note and consent/approval for the semi-permanent treatment upon arrival for your appointment.
Before Chemotherapy or Radiation treatment
Going through the treatment without completely losing the look of having natural brows
Best for when you don't want to witness the fairly dramatic situation of hair loss, making the hair loss less noticeable when doing the semi-permanent treatment prior to chemotherapy.
Requirement: Have been diagnosed and have at least 6 weeks before the chemo/radiation treatment
6 weeks would be enough time for a touch-up a month later and will heal properly before the chemotherapy treatment.
A second appointment is not always needed but just in case it is needed, there is enough time prior to the chemotherapy treatment.
After Chemotherapy or Radiation treatment
Many chemotherapy/radiation treatment patients have noticed that their brows do not grow out completely so the technician will work with you on what shape you'd want for your brows.
Requirement: 6 months being completely off chemotherapy/ radiation treatment and when your oncologist has confirmed that your blood cell count is back to normal. (i.e. doctors approval and consent)
During Chemotherapy or Radiation treatment
It is not recommended to have the semi-permanent makeup tattooing treatment while doing chemotherapy as the tissue would be sensitive and can worsen the bleeding and lead to a potential infection.